As an expert in the field, I am frequently invited to join panel discussions, to present at conferences or be part of a jury or counsel of experts reviewing conference papers. I like juggling with both roles, on stage and behind the scenes. This enables the change in perspective I need to stay curious and interested. Especially interested in the topics the audience wants to hear and discuss. For that I keep my ears open and listen carefully to the audience questions and feedback.
Diversity, artificial intelligence, female empowerment – with these topics I strive to make the panel discussions more diverse and interesting to the audience. On the other hand, as a jury member, my expertise in the above topics allows me to acknowledge the achievements of others and praise them accordingly. 
But what brings me the biggest joy is definitely meeting people and exchanging different opinions with experts and peers. This makes a panel not only fun for me, but also fun for the others.
I am open to productive & controversial discussions
I discuss with empathy & wisdom
I connect award givers & pioneers
Valuable input leads to an enriching output – let us strive for more food for thoughts and fun events!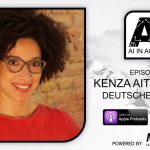 Today's guest is Kenza Ait Si Abbou, Senior Manager of Robotics and AI at Deutsche Telekom. Kenza and her team are driving the RPA (Robotic Process Automation) and AI solutions within the IT department of Deutsche Telekom in Berlin.